How to care for your swimsuit?
Extend the life of your favourite swimsuits with our pro tips
Wash your swimsuit by hand, in warm or cold water with mild soap and after each use. Do not use the washing machine.
Soak your swimsuit for a few minutes in a basin of warm or cold water.
Remove excess water with a towel. Avoid twisting it. Dry your swimsuit flat and away from direct sunlight. Do not use the dryer.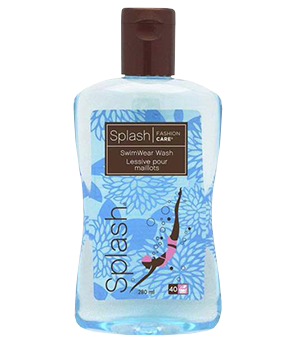 Splash soap
Neutralizes the effects of chlorine and salt. Removes body oils, lotions and sunscreen. Protects colour and preserves elasticity.
Committed to eco-conscious initiative, we offer laundry products:

biodegradables • free of parabens
eco-friendly • free of phthalates
plant-based • free of SLES
with naturally derived • free of dyes
essential oils • never tested on animals
Other useful tips
• Untie all knots before washing to prevent
extension of the fabric fibers.
• Never leave your wet swimsuit in a plastic
bag or wrapped in a towel.
• Alternate swimsuits, your swimwear needs
a full day to dry and go back to its original shape.
• Pay attention to rough surfaces to avoid
breaking the fibers of your swimsuit.